DYNertia Dyno System (Inertia & 'open loop' brake dyno)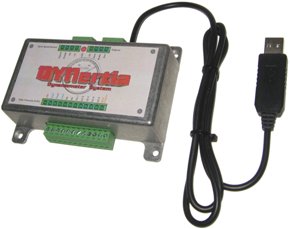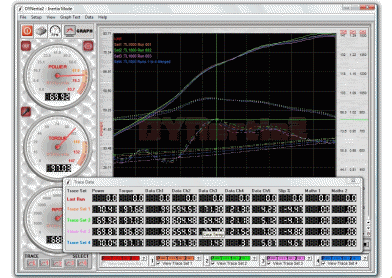 Your own Dyno (Dynamometer) is within your reach!
Inertia Dyno ( Dynamometer ) Software / Hardware unit allows easy DIY construction of an inertia dyno (or 'open loop' brake type dyno). Perfect for engine/vehicle testing and tuning, whether it be kart, bike, car or even RC model sized engines.
Inertia type dyno operates on the principle of calculating the power required to accelerate a known mass, which is basically just a 'flywheel' coupled to the engine or vehicle.
Brake (absorber) type dynos use water, eddy current, hydraulic or friction load against the engine and the torque is measured on a 'load cell'. In 'brake' mode DYNertia uses this torque rather than the inertia for power calculations. The DYNertia kit does not control the absorber (you need to control the load applied), it gathers the data, this means it is 'open loop' only.
We have a guide and tools to assist in the designing and building of the inertia assembly. All you need in addition to this controller and the dyno inertia mass is a PC for the software (with a USB port).
A precision rotational sensor ('Hall' effect) and magnet is included with the kit so no need for a 'trigger wheel'. This method is accurate and easy to incorporate into your dyno design.
Key Dyno System Features -
Software provided handles all data management, analysing and graphing required for your dyno project. Records Power, Torque, RPM/Speed, input channels, math's, Slip and Losses channels and a second Hardware RPM input, all conveniently displayed and stored on your PC or Laptop.

Software and firmware updates are free. Firmware updates from your PC keep your hardware updated.

Dual screen compatible modes allow you to display 10 runs at once. You can also pan, zoom, display speed, RPM, duration, sensor values, "merge" (create an average), "join" and "trim" existing runs.

Suitable for chassis or engine and inertia and/or 'open loop' brake (absorber) dyno designs, either direct or indirect drive.

Completely flexible inputs, 5 analogue & 1 digital, for sensors such as air/fuel ratio, temperature, voltage etc. 2 additional data channels can be created to perform complex data calculations ('math' channels), just think of the tuning possibilities!

Metric and Imperial modes. kph/Kw/Nm/ºC or mph/Hp/Ft Lb/ ºF etc. Data is also corrected for weather conditions to world standards.

Dyno and Driveline mechanical 'Losses' can be measured and correction values applied to the test data.

Powerful analysis tools are provided to get the most from your testing. Overlay and analyse results or quickly replace with other saved runs for comparison. Test data, conditions, max readings, set up details or any of your personal notes that are saved along with each run can all be reviewed. You can also view a summary table for all of the selected runs.

To view our DYNertia3 software instruction videos please click here and subscribe to our Youtube channel.
Click on the icons below to view the attached manual and guides for further information-
'Quick Start' DYNertia3 Guides for different types of dyno are available on the Download page.
What you may need to provide -
Inertial mass assembly (the actual mechanical dyno parts).

For brake type you will need to have a sensor to provide torque input to DYNertia. This can be a load cell and amplifier (typically an 'S-beam' type), the signal from a pressure sensor (hydraulic load cell) or a potentiometer (mechanical load cell).

PC with a USB port.
What we provide -
DYNertia Electronic unit

Sensor and trigger magnet

Printed 'quick start' guide

DYNertia3 Software (download)
Popular Accessories -
The accessories below are not required, but may help gather additional data for analysis. 'Click' on the links for full descriptions.
Non-DTec popular accessories-
Thermocouple Amplifiers e.g. 'Reveltronics' EGT-K Series

AFR Meter e.g. 'AEM' X-Series (30-0300)
◄ Back to 'Product' page for purchasing and to view all products