Air Density Meter - Performance engine tuning weather station and analyser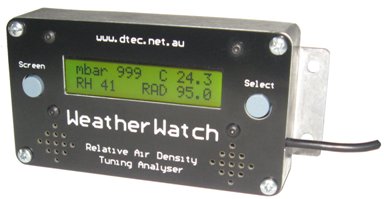 All good tuners appreciate the significant effect that atmospheric conditions have on engine performance!
'Weather Watch' is a track side meter and analyser for monitoring weather conditions to allow tuning to the current RAD (Relative Air Density).
Inbuilt LCD display shows barometric pressure, temperature, humidity, RAD, change of RAD from a saved reference and even power loss or gain due to atmospheric conditions!
Data can be optionally transmitted to either 'DYNertia3' dynamometer software or to the included 'Weather Watch' monitoring program if data logging is required.
Key Features
Can directly

interface to DYNertia3 dyno software to allow correcting of data for atmospheric conditions.

No PC required for stand alone use - USB powered, can run off any USB power source such as USB outlets, chargers, phones, PC's, power packs etc. *

Displays barometric pressure, temperature, relative humidity, RAD (Relative Air Density)

Tracks changes in RAD from a saved reference, indicates richer or leaner jetting required.

Displays the potential percentage of power lost or gained due to the current weather conditions.

Configurable pressure units (mBar, Pa, kPa, "Hg, hPa), temperature units (°C, °F), power correction standards (SAEJ607, SAEJ1349, DIN70020), RAD precision (1 or 2 decimal places) and even the screen displayed at start-up can be selected.

LCD backlit display for track side visibility.

Data logging to a PC for optional record keeping, 'WeatherWatch' software is included.

Compact dimensions 114 x 64 x 30mm, rugged metal case with mounting tabs.
* Note: Ensure USB supply is active with low power demand (WeatherWatch draws approximately 30mA of current).
Click on the icon below to view further information-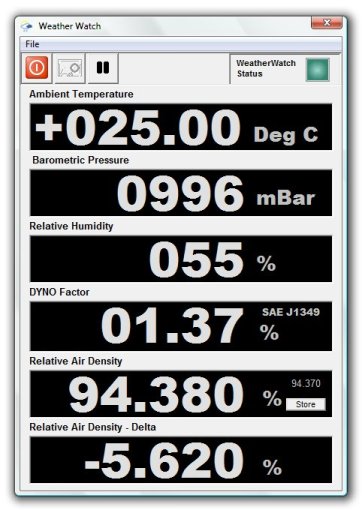 ◄ Back to 'Product' page for purchasing and to view all products