Load cell amplifier for dyno 'S' type and 'Beam' type sensors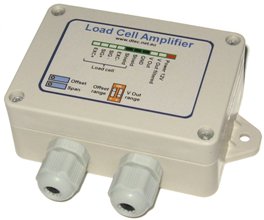 Brake type dyno's apply a load (e.g. using an Eddy current brake) against the engine and the torque applied is measured on a 'load cell'.
Load cells require an amplifier (also called 'signal conditioner', 'transmitter' or 'strain gauge' amplifier) to provide them with power and to increase their output voltage to a measurable range.
This amplifier is suitable for interfacing to DYNertia3 and other data acquisition systems; it has an output in the 0-5V
range and can be set for typical 2mV/V (as DTec generally provide) or 3mV/V sensitivity load cells.
This is a precision amplifier circuit with low temperature drift and long-term stability.
Compatible with 'S" or 'beam' type load cells, optimised for common 2mV/V or 3mV/V sensitivity load cells.

Outputs range 0-5V, either direct or low-pass filtered (special noise reduction circuitry added)

'Span' and 'Offset' adjustment is provided to maximise the resolution of your load cell.

Wide power supply range from 12V to 26V

Input overvoltage, overcurrent and output short circuit protection

Easy connection via internal screw type terminal block
Click on the icon below to view the attached information booklet-
Popular Accessories -
The accessories below may be required if you do not have an equivalent available. 'Click' on the links for full descriptions.
◄ Back to 'Product' page for purchasing and to view all products